Have a look : Luxembourg Financial Centre
Luxembourg is: the world's second-largest investment fund centre; a market of choice for High Net Worth and Ultra High Net Worth individuals with sophisticated needs; and a leading hub for life assurance, recognised across Europe for its transparency, compliance and expertise.
A Luxembourg pension, life assurance , and other forms of wealth management in Luxembourg mean unprecedented peace of mind for investors – thanks to excellent financial stability (it's one of few countries rated AAA by the 'big three' credit rating agencies) and a unique regulatory regime.
Quick facts about Luxembourg
Sector leader: EUR 25.6 bn in life assurance cross-border premiums in 2019

World's leading cross-border fund distribution centre
2nd largest world investment fund centre after the US with EUR 4,973 bn AUM (Source Alfi as at December 2020)
Secure asset protection
A safe haven for investors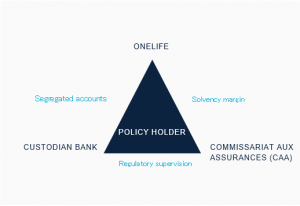 Exceptional stability and safety offered by the 'triangle of security'.
This arrangement subjects life assurance companies like ours to stringent prudential and governance regulations, including the need to maintain an ongoing solvency margin big enough to secure the permanence of our business. It also requires all policyholders' assets to be deposited in an accredited custodian bank, and separated completely from our own shareholders' assets. The CAA monitors each life assurance company's solvency ratio rules every quarter.