August 23, 2021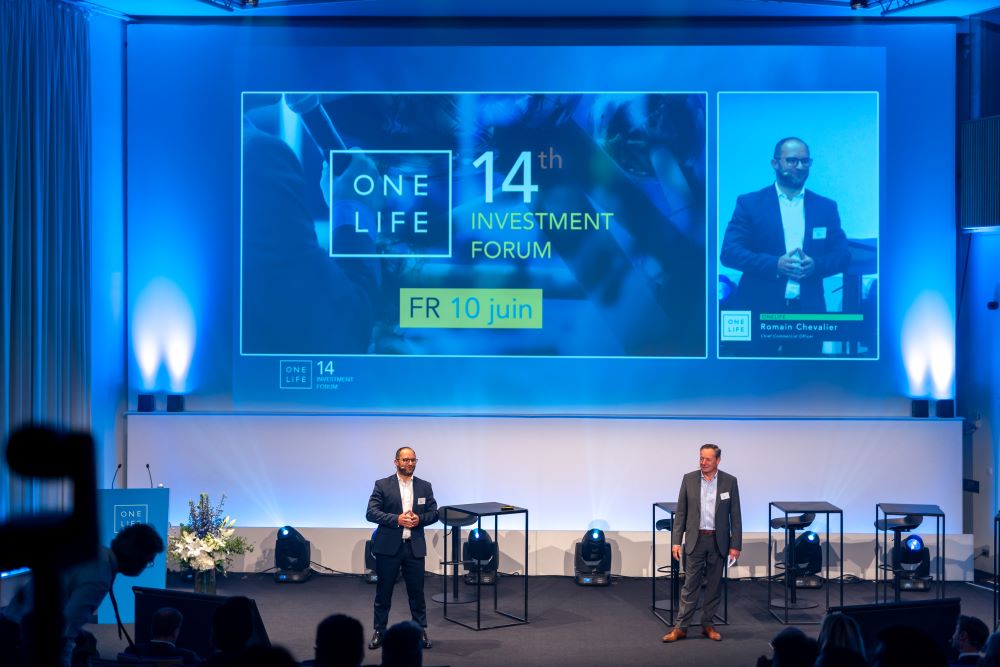 The 14th edition of the OneLife investment forum was a resounding success. For the first time in a long while, professionals from the finance sector came together at a single location on 9 and 10 June 2021 (in addition to a live streaming service). Enthusiasm and the simple pleasure of getting together pervaded the entire event! An opportunity to share numerous investment perspectives and insights on wealth planning.
OneLife and its parent company, the APICIL Group
Two-and-a-half years ago, OneLife joined the French group APICIL. The interaction between these two entities has been excellent, according to Renaud Célié, Deputy Managing Director for Savings & Financial Services at the APICIL Group and Antonio Corpas, Chief Executive Officer of OneLife. The strong growth of OneLife in 2020, despite the difficult business environment, is testament to this fact: assets under management rose to close to Euro 8 billion while new premiums increased by 22% in Belgium. The two parties emphasised continued growth in 2021 with a record year taking shape.
Romain Chevalier, Chief Commercial Officer of OneLife, and Marc Dhondt, Sales Manager Belgium, also presented numerous ongoing initiatives designed to support current growth, including the deployment of new digital services for clients and partners and the development of innovative investment solutions exploiting life assurance policies (real estate and microfinance).
And what about the economy?
No Investment Forum can be complete without a macroeconomic overview, especially now as the economy is bouncing back strongly thanks to consumers and companies once again spending and investing actively. Nevertheless, the air blew both hot and cold during the discussions, with some participants and part of the audience asking whether this would not lead to overheating, inflation and rising interest rates. Inflation will be contained for a period but, whatever the circumstances, the central banks will have to abandon their accommodative monetary policies. And a very small rise in interest rates can be foreseen, which will not displease everyone, especially insurance companies. It may have a negative impact on equity markets where prices have been high up to now, calling for selectivity and favouring high-quality and stable stocks.
It was stated on multiple occasions that the pandemic has accelerated certain trends and that we will clearly not be returning to our old habits. Offices will not be disappearing but their role is changing, while the impact of digitisation is moving ahead at an even faster pace – as demonstrated by the Investment Forum being held both in person and virtually.
Investment perspectives and trends
Many managers came to give a presentation of their funds and to explain their place within a diversified portfolio. Everyone was given 5 minutes for their "fund pitch": a formula which clearly won over the audience, as did the joint fund interviews which were designed to analyse investment trends and to identify benchmark funds during this period.
Fund companies are currently offering mixed funds for the most part based on global equities, but technology and growth funds are still creating a great deal of interest. Also worthy of note is the optimism expressed regarding European equities and sub-funds based on emerging markets such as China, frequently with a technological bias.
Bond funds were hardly mentioned at all, the low yields clearly having left their mark.
Lastly, sustainability was the main theme of this edition alongside thematic investment, which is being adopted by a growing number of asset managers.
Forewarned is forearmed

Succession planning was also a topic for discussion, with the legal and tax aspects to be considered in order to avoid nasty surprises and to protect your loved ones. The tax implications of cohabitation (legally recognised or otherwise), marriage and de facto separation were examined. Nicolas Milos, Senior Wealth Planner at OneLife, set out all the scenarios. The conclusion was that, between partners, it is preferable to settle everything well in advance, right up to the tiniest of details.
A big thank you to the sponsor-partners of the 2021 edition
ALIENOR CAPITAL; ANDBANK ASSET MANAGEMENT LUXEMBOURG; APHILION; BANQUE DE LUXEMBOURG INVESTMENTS; BNY MELLON INVESTMENT MANAGEMENT; CAPITAL GROUP; CARMIGNAC; CHAHINE CAPITAL; COLUMBIA THREADNEEDLE INVESTMENTS; COMGEST; DEGROOF PETERCAM ASSET MANAGEMENT; DNCA INVESTMENTS; EDMOND DE ROTHSCHILD; ETHENEA; FIDELITY INTERNATIONAL; FIDUCENTER ASSET MANAGEMENT; FLOSSBACH VON STORCH INVEST; FRANKLIN TEMPLETON; FUCHS & ASSOCIES LUXEMBOURG; FUND CHANNEL; FUNDS FOR GOOD; INVEST4GROWTH ASSET MANAGEMENT; J.P. MORGAN ASSET MANAGEMENT; JUPITER ASSET MANAGEMENT; KEREN FINANCE; LA FINANCIÈRE DE L'ECHIQUIER; LA FRANÇAISE; LAZARD FUND MANAGERS; LELEUX FUND MANAGEMENT PARTNERS; M&G INVESTMENTS; MAINFIRST; MIMCO CAPITAL; NATIXIS INVESTMENT MANAGERS; NN INVESTMENT PARTNERS; ODDO BHF ASSET MANAGEMENT; OFI ASSET MANAGEMENT; PGIM INVESTMENTS; PICTET ASSET MANAGEMENT; PIMCO; PURE CAPITAL; RICHELIEU GESTION; ROTHSCHILD & CO ASSET MANAGEMENT EUROPE; SOGENIAL IMMOBILIER; TRIODOS INVESTMENT MANAGEMENT; VARENNE CAPITAL
Reserve a spot in your diary for next year's 15th edition of the Investment Forum!