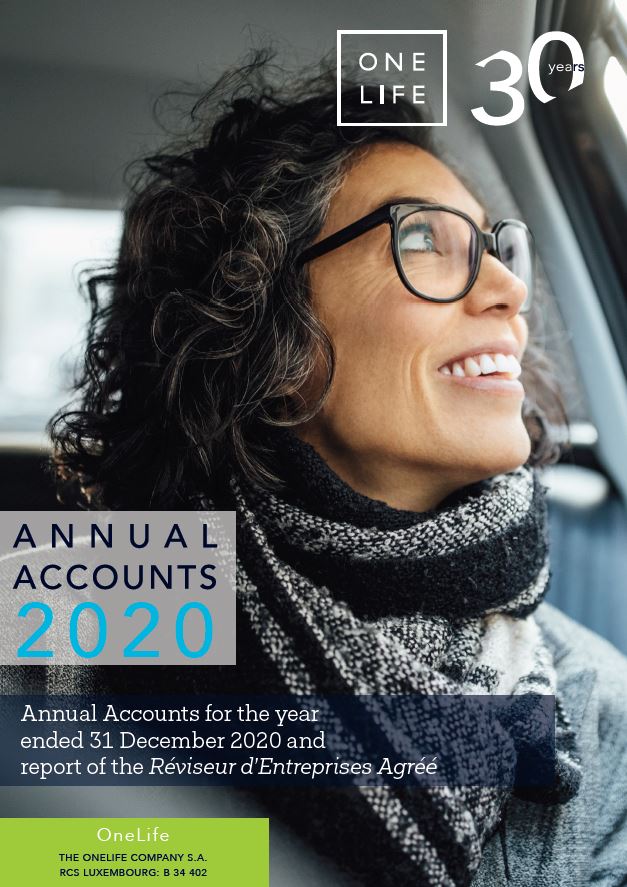 The OneLife Company S.A. (OneLife) has released its annual accounts which confirm 2020 as another year of strong financial performance despite the volatility on the markets caused by the Covid-19 global pandemic. The key highlights are:
New premium income amounted to EUR 834 million and was well-diversified across markets.
In its primary markets, OneLife maintained its leading position in both Belgium and Denmark. New premiums increased year-on-year by 22% in Belgium.
In France, new premium income generated by the company's LPS activity from Luxembourg increased significantly by 69%. OneLife's branch in France also supported the ability to serve a diverse range of clientele. Overall, the new premiums on the French market grew by 4%. This growth in market share reflects the company's commitment to strengthen its salesforce and enhance its value proposition for partners and clients.
The company's additional core markets in the Nordics and Iberia saw healthy business development and the forging of relationships with new global institutional partners.
As a result, technical provisions grew by 3.3% to reach a new record of EUR 7.7 billion.
In addition to the sales results, the Company also implemented different actions related to cost efficiency to support profitability which rose significantly to EUR 5.3 million in 2020 (compared to EUR 1.8 million in 2019).
Solvency levels remained good at 137% despite the environment of uncertainty created by the pandemic.
Commenting on the results, Antonio Corpas, OneLife CEO, stated: "OneLife's robust results this year demonstrate the strength of the company's business model and balance sheet as well as the expertise of our teams and the relevance of our value proposition in serving the needs of HNW individuals and their families across multiple jurisdictions. OneLife demonstrated resilience and agility in 2020 through the adoption of enhanced ways of working and the fast implementation of change to ensure business continuity in the face of the crisis. OneLife therefore contributed strongly in 2020 to Groupe APICIL in terms of profitability as well as in enhancing the client and partner offering".

During the course of 2020, OneLife also undertook improvements and added new services to its current proposition. Some examples were simplification and rationalisation of product documentation, daily valuation of certain fund types, a change in global custodian bank, the implementation of a Group Quality Programme and plans for new innovative product launches in 2021.
Additionally, the Company conducted alongside Groupe APICIL the building of its 4-year strategic plan (Horizon 2024). This project will guide the Company in its future development to continue to build a sustainable business model and to innovate in the provision of cross-border wealth solutions from Luxembourg.
OneLife marks its 30th anniversary in 2021 providing the opportunity for the company to celebrate three decades of trusted collaboration with partners, clients and employees and to look to the future with keen resolution.
The OneLife Company S.A.
Audited Annual Accounts for the financial year ended 31 December 2020: click here
Solvency & Financial Condition Report (SFCR) for the financial year ended 31 December 2020: click here