As we embark on 2019 – the last year of the decade – let me express the wishes from all of us at OneLife to you and your families for a very happy new year!
We are living through times of great change in all areas of our lives – a challenging prospect indeed. And also one which provides opportunities for those who through agile thinking, effective teamwork and a digital mindset remain open to seizing the advantages. This is what we endeavour to do at OneLife and in so doing we commit to meet, and surpass, the expectations of our partners and clients in all areas of our business.
2018 – what was it made of?
OneLife – 2018 performance
This year has been another year of growth. We saw our premiums increase to reach over €520m. This strong performance is based on good returns in our long-standing markets like Belgium with investments made in other markets like Iberia and France bearing fruits leading to a well-diversified portfolio. New relationships with global institutional partners for our innovative cross-border wealth solutions were sealed.

OneLife – 2019 new opportunities
In August, we announced the acquisition of OneLife by Groupe APICIL (APICIL). APICIL is the fourth largest social protection group in France, engaged in health and life insurance, pensions, savings products and related financial services. APICIL's investment in OneLife is a clear indication of its commitment to Luxembourg and to further strengthening our company's position as a provider of global wealth solutions using unit-linked life assurance. The transaction was completed on 2 January 2019 and we look forward to working with APICIL to capitalise on OneLife's expertise and positioning in wealth management. Our joint commitment will further grow our business, our value proposition and the quality we provide to partners and clients across our markets.
Development of our proposition

In addition to our well-established expertise in wealth structuring, cross-border portability and estate and succession planning, in 2018 we launched an important campaign called #Success in #Investments to showcase our expertise in this area. Over the past year, OneLife has invested significantly in developing its Non-Traditional Assets capability to bring new investment opportunities to our partners and clients outside the traditional sphere of equities, bonds and money market funds. This includes access to Private Equity, Real Estate and Securitisation vehicles which in times of low-interest rates can provide diversification through better returns, well-managed risk and exposure to sectors which are developing fast. Find out more about our #Success in #Investments campaign!
International Investment Forum
The eleventh edition of the OneLife Investment Forum held in Brussels in October brought together over 500 guests including international partners, asset managers, traditional and non-traditional fund houses and an array of different speakers and infuencers all on the theme of 'Crossing borders for clients and investments'.
Technology upgrade
During 2018, OneLife successfully completed the consolidation of its IT systems in 2018 – migrating to a single policy administration platform. This means that our service now provides straight-through processing and brings enhanced consistency and automation across operations. Our objective is to provide a seamless, efficient end-to-end service to our partners and clients across all markets and languages.
Digital – making it easier to do business
OneLife continued its digital transformation in 2018 adding the digital signature as a new key service for all its transactions for the Belgian market, with deployment to other markets planned in 2019. This facility is 100 per cent paperless, entirely secure and transactions which are signed digitally have the same legal value as manually signed ones. The digital signature provides a fast, efficient and paperless service to both partners and clients. OneLife also added new features to its mobile App which gives 24/7 real-time access to portfolios for partners and clients.
Regulation driving innovation
2018 was an unprecedented year when it came to the introduction of new regulation governing the financial services industry. The Packaged Retail and Insurance-based Investment Products (PRIIPs) on 1 January, the Global Data Protection Regulation (GDPR) on 25 May and the Insurance Distribution Directive (IDD) on 1 October all brought even more security and greater transparency for client with the implementation of global standards governing investments, personal data and insurance distribution.
People and expertise
In 2018, OneLife strengthened its teams to support its global growth ambitions, recruiting talent across a number of key functions including Non-Traditional Assets, Client Services and Wealth Planning.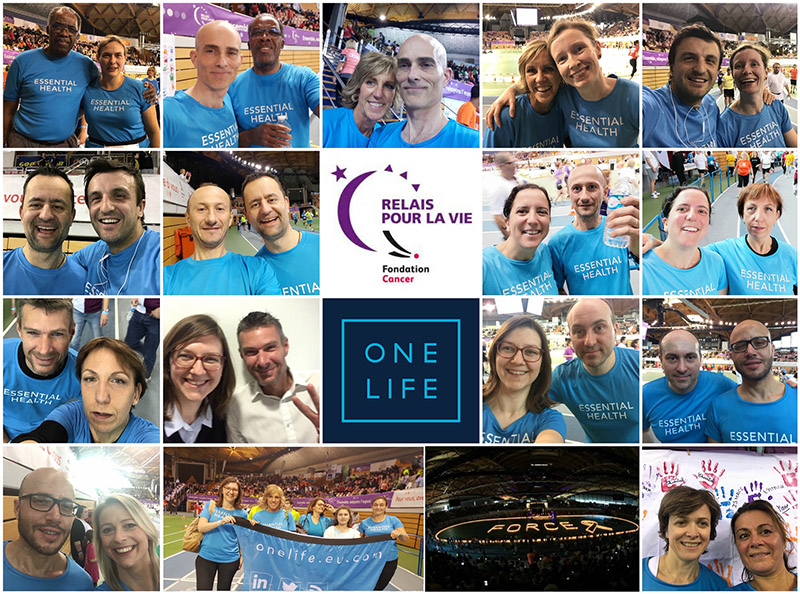 Corporate Sustainability
OneLife and its employees were active for charity throughout 2018! Pulling on sports shoes employees raised money for the European Leucodystrophies Association and took part in Relais pour la Vie to help combat cancer. OneLife is committed to charity programmes which help fight disease and improve the local community. We also celebrated Luxembourg Diversity Day on 17 May illustrating the many cultures, nationalities and languages which make OneLife unique.
And for 2019, what's on the agenda?
International development
In 2019, we will continue to expand in Belgium and build out markets such as France, with the support of APICIL, as well as Iberia, a region which demonstrated strong growth in 2018. Belgium remains a core market and we will add new resource and capability to ensure that we are making the most of our leadership position there. In Denmark, we will extend our already strong market position. In other markets such as the Nordics, our aim is to grow market share and deepen relationships with key institutional partners.
APICIL, as new shareholder since 2 January, will support and invest in OneLife's growth. With their leadership position in France and their extensive network, they will develop OneLife's international, cross-border life assurance expertise even further to build out their wealth management arm on an international basis. This strategy will bring with it considerable value for OneLife's partners and clients in terms of service and solutions.
Digital roadmap
We will continue to implement our digital transformation in 2019, bringing dematerialisation of documents as a key service offering to our partners and clients. Making policy documents available digitally across our secure platforms youroffice and yourassets in just a few clicks and continuing to improve the customer experience with the use of technology is a key priority of this year's roadmap.
Client experience
Our focus continues to be on increasing our operational efficiency which allows us to focus strongly on our partners and clients. Streamlining our operations further and bringing innovation and fast, effective service to both partners and clients is a key element of our strategy in 2019. Making it easier to do business with OneLife, giving enhanced access to online platforms and features will facilitate the connection between all parties involved in policy management.
I would like to conclude by thanking you, our valued partners, for your ongoing collaboration. Our future is inspired by you and your clients. Our new shareholder, Groupe APICIL, is committed to the continued development of our business to ensure that we provide you with the expertise, the solutions and the service of a leading wealth management firm. I can assure you that our teams too are aligned behind this objective. We look forward to this new year and the opportunities it offers to collaborate in the common interests of our clients!
With warmest wishes for 2019,
Antonio Corpas
Chief Executive Officer