On 10 September 2020, the annual OneLife Investment Forum took place in an entirely new format to meet the challenges posed by the global pandemic. This year's Forum combined a one-day virtual event together with smaller in-person events held across Belgium for our privileged partners; all allowing exchange and interaction on a wide number of investment and wealth structuring topics. Via the state-of-the-art platform, life assurance intermediaries were able to visit the 36 fund house exhibition stands during the day and attend conference sessions in French and Dutch, all without moving or travelling an inch!
36 fund managers exhibiting in 4 halls. Investment and wealth structuring sessions broadcasted in 3 auditoriums
On the agenda!
Fund managers presented their top fund picks for the second half of the year through a series of 5-minute interviews. Nicolas Milos, Senior Wealth Planner at OneLife, explained the advantages of combining donations with a life assurance contract to optimise wealth transfer. Keynote speaker, Stefan Duchateau, shared his vision for the future of the global economy during these challenging times, giving an insight into the key indicators he believes will have the most impact.
120 Belgian partners followed the various sessions from six small in-person events organised throughout Belgium. They also enjoyed the full virtual experience from their laptop.
Senior Executives from OneLife and Groupe APICIL further contributed to this Forum of exchange and debate. Renaud Célié, Head of Savings & Financial Services at Groupe APICIL, Antonio Corpas, CEO OneLife, Romain Chevalier, CCO OneLife and Marc Dhondt, Senior Consultant for Belgium at OneLife, discussed the company's plans and achievements, and emphasised the importance of agility and engagement to keep on fostering innovation and operational excellence in order to offer a unique partner and client experience.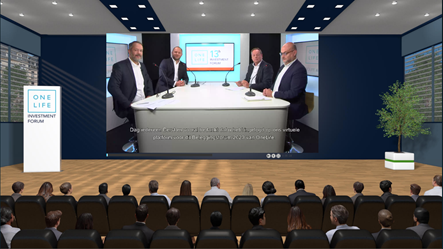 OneLife conference bringing insights on Group's ambitions and commitments.
The Forum is not yet over!
Did you miss our Forum or need more time to consult the full set of information? Our Investment Forum is still available in #Replay to partners until 12 October 2020. During this timeframe, you can access this virtual one-stop-shop platform to visit fund managers' booths, download their documentation and watch all sessions broadcasted in the three auditoriums.
"OneLife's focus is on the continued development of its value proposition for partners and clients in Belgium and across its other core markets, said OneLife CEO Antonio Corpas. "Events like the Investment Forum demonstrate the ability of the company to innovate, add value and anticipate opportunities. On behalf of everyone at OneLife, I'd like to thank our partners, fund manager sponsors and keynote speaker for yet another successful event!".