Life assurance and investment planning
Almost one in two HNW Europeans believe inheritance planning is important, yet only 30% have a strategy in place. Keen to know more, NPG Wealth Management commissioned Scorpio Partnership to survey 600 HNWI.
The purpose was simple: To better understand the wealth planning needs of HNWI. To share our insight, we've created three videos on life assurance and investment planning in Europe.
Part I – NextGens drive focus on inheritance planning
Why is it the under 35s who are best prepared for inheritance planning? And why does Europe lag behind the US on inheritance planning?
Part II – Life assurance usage set to grow amongst HNWI
Life assurance usage amongst HNWI is forecast to double. We look at the countries leading this trend and Luxembourg's role as a centre of excellence.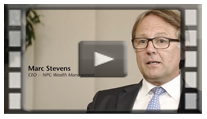 Part III – The provider / advisor partnership
We consider the advisor's role as a wealth navigator, using life assurance to meet the needs of internationally-mobile HNWI.